DSM
Hole measuring unit DSM To be used for very quick measuring of diameters and ovality in drawing dies and extruder tooling.
Measuring time only takes seconds. Can also measure profile dies.
DSM is measuring in the same way as the cable measuring unit KSM of which more than 230 units have been delivered.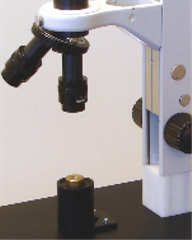 Type DSMR

Type DSMR1.6/5 with 2 optics Max hole diameter: 1.6 mm 5.0 mm Max width: 1.8 mm 6.0 mm Min hole diameter: 0.2 mm Accuracy: 1 µm Other models also available.
DSMR has a menu to register the Die number. order number and other required data. In the image system a great number of 2-dimensional measuring will be made.

Max-/min and average diameter and ovality are presented. The area of the hole is also measured